HOME
>
ENGLISH
>
SOUL
>
Finally Relaunched! - The Red Bull Stratos World's Highest Altitude Stratosphere Dive Project
---
Finally Relaunched!
- The Red Bull Stratos World's Highest Altitude
Stratosphere Dive Project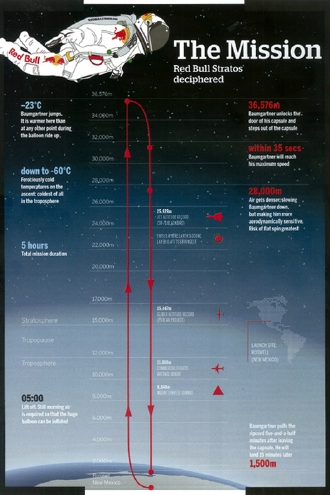 The Red Bull Stratos project, created by Red Bull and Austrian BASE jumper Felix Baumgartner, is a mission to reach the stratosphere and an attempt to transcend human limits.
The exciting news that this once canceled project has been relaunched was announced in February 2012.

The project was canceled in late October 2010 due to a lawsuit filed by the American promoter Daniel Hogan, who was also looking to break the dive record. However, even after receiving news of the project's cancellation, Baumgartner never gave up on his dream. He continued to train every day in hopes that the issues will eventually be resolved. The officially relaunched Red Bull Stratos is a monumental project. It challenges the record dive of 31,333 meters that hasn't been broken for fifty years, set by Colonel Joseph Kittinger during the historical Excelsior III project in 1960.

Here is an overview of what the project entails. The specialized capsule containing Baumgartner is equipped with helium balloons, and will ascend to a height of 36,000 meters in about three hours. This capsule provides a stable supply of oxygen and atmospheric pressure to Baumgartner during his ascent.

Once Baumgartner reaches 36,000 meters, he will open the capsule door and take on the world's highest altitude dive. This project is looking to break four records at the same time. These include the world's highest manned balloon flight of 36,576 meters, the world's highest skydive, the first supersonic free fall, and the longest free fall (at about 5 minutes and 30 seconds).

Even for Baumgartner, who has achieved many great feats, including diving from the T101 Taipei World Financial Center building and a low altitude BASE jump from the Christ the Redeemer statue in Rio de Janeiro; this dive from the stratosphere is a venture into the unknown.

Baumgartner is not just looking to break records. He is also driven by tremendous desire. He has strong hopes that, through this project, data and documentation valuable for improving technology for future space exploration can be passed on to future generations. This project is expected to contribute significantly to research currently being conducted all over the world concerning human survival in outer space.
Baumgartner and the Red Bull Stratos Team are currently in the final testing stages in Roswell, New Mexico; and they have successfully completed highly complex simulation testing. This project has been conducting preparations for five years, starting with the development of the specialized capsule as well as equipment and safety protocols.
Colonel Kittinger is also providing support by offering valuable advice to Baumgartner and the engineers. We look forward to the day this mission gets carried out, with great respect towards the project members who are working tirelessly towards this significant achievement.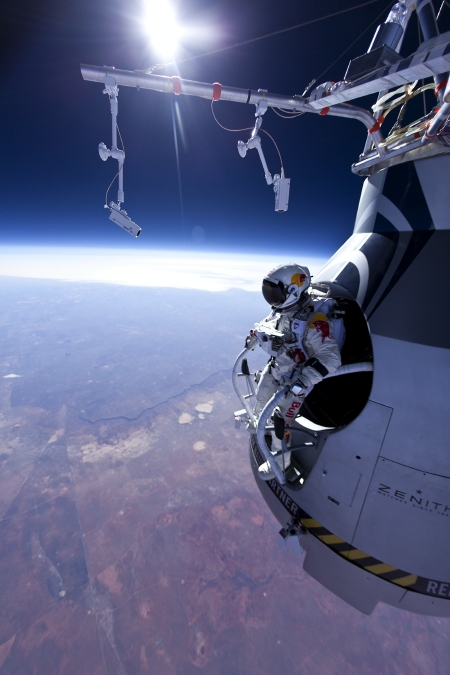 Translation: Paul Tokunaga
Text:Faust A.G.
Photos:Redbull Stratos
ENG version: 2012/06/07
Original JPN version: 2012/03/29


---
---

---